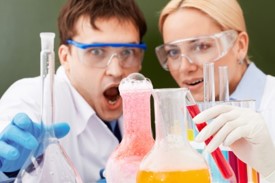 Dr. Dan's chemistry course w/lab is a blast (don't worry, we're not talking about real explosions).
What we mean is that, like all of Dr. Dan's classes, his Chemistry provides a fun, hands-on experience. See, do, and hear how common household items respond and interact! There's lots of doing labs as well – much more than if you only watch our videos! Some of the labs will be demos by Dr. Dan as well.
Chemistry is also about counting moles and solving practical algebraic equations. Your student really can do that once they learn and use Dr. Dan's Chemistry Roadmap©. So, there's some math, but for those who are not inclined toward seeing the insides of living things – there is no dissection in Chemistry!  Who just said YAY??
Chemistry is an AP-like course (advanced placement) and can lay the groundwork for students who want to use the College Level Examination Program to "CLEP" out of college courses and get a jump on their higher level educational career.
Dr. Dan's Chemistry works great for the "I'll never go into science" types as well. You can replay, speed up, slow down and pause videos as much as you need! Also, this could be done in 12, 18 or 24 months. YOU choose your rate as well as quizzing options!
Prerequisites: Physical and General Science with Dr. Dan and Algebra I. If you feel that your student has the equivalent from another program, then join Dr. Dan's Chemistry TODAY by clicking here!
Chemistry Introduction Video
| | |
| --- | --- |
|   Credit Hours Available |   1 (when sem 1 & 2 taken) |
|   Term of Class and Lab |   32 Wks (when sem 1 & 2 taken) |
|   Length of Each Class |   +/- 3 Hrs/wk |
|   Frequency of Each Class |   You choose when/how often! |
|   Lab Videos Included? |   Yes – w/Lab handout PDF, too! |
|   Typical Grade Level |   10th, 11th, or 12th+ |
|   |   |
$440
You'll save 41% off in-person rates!
Hint: if you commit and pay for Semester 2 before August 1 as well, you'll lock in your rate for the whole school year! How cool is that? 
Great adventures in the chemical world await you!